Mindful Eating as Food for Thought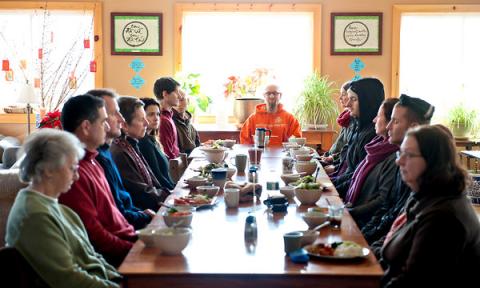 TRY this: place a forkful of food in your mouth. It doesn't matter what the food is, but make it something you love — let's say it's that first nibble from three hot, fragrant, perfectly cooked ravioli.
Now comes the hard part. Put the fork down. This could be a lot more challenging than you imagine, because that first bite was very good and another immediately beckons. You're hungry.
Today's experiment in eating, however, involves becoming aware of that reflexive urge to plow through your meal like Cookie Monster on a shortbread bender. Resist it. Leave the fork on the table. Chew slowly. Stop talking. Tune in to the texture of the pasta, the flavor of the cheese, the bright color of the sauce in the bowl, the aroma of the rising steam.
Continue this way throughout the course of a meal, and you'll experience the third-eye-opening pleasures and frustrations of a practice known as mindful eating.
The concept has roots in Buddhist teachings. Just as there are forms of meditation that involve sitting, breathing, standing and walking, many Buddhist teachers encourage their students to meditate with food, expanding consciousness by paying close attention to the sensation and purpose of each morsel. In one common exercise, a student is given three raisins, or a tangerine, to spend 10 or 20 minutes gazing at, musing on, holding and patiently masticating.
Lately, though, such experiments of the mouth and mind have begun to seep into a secular arena, from the Harvard School of Public Health to the California campus of Google. In the eyes of some experts, what seems like the simplest of acts — eating slowly and genuinely relishing each bite — could be the remedy for a fast-paced Paula Deen Nation in which an endless parade of new diets never seems to slow a stampede toward obesity.
Mindful eating is not a diet, or about giving up anything at all. It's about experiencing food more intensely — especially the pleasure of it. You can eat a cheeseburger mindfully, if you wish. You might enjoy it a lot more. Or you might decide, halfway through, that your body has had enough. Or that it really needs some salad.
"This is anti-diet," said Dr. Jan Chozen Bays, a pediatrician and meditation teacher in Oregon and the author of "Mindful Eating: A Guide to Rediscovering a Healthy and Joyful Relationship with Food." "I think the fundamental problem is that we go unconscious when we eat."
The last few years have brought a spate of books, blogs and videos about hyper-conscious eating. A Harvard nutritionist, Dr. Lilian Cheung, has devoted herself to studying its benefits, and is passionately encouraging corporations and health care providers to try it.
At the Food and Brand Lab at Cornell University, Prof. Brian Wansink, the author of "Mindless Eating: Why We Eat More Than We Think," has conducted scores of experiments on the psychological factors that lead to our bottomless bingeing. A mindful lunch hour recently became part of the schedule at Google, and self-help gurus like Oprah Winfrey and Kathy Freston have become cheerleaders for the practice.
With the annual chow-downs of Thanksgiving, Christmas and Super Bowl Sunday behind us, and Lent coming, it's worth pondering whether mindful eating is something that the mainstream ought to be, well, more mindful of. Could a discipline pioneered by Buddhist monks and nuns help teach us how to get healthy, relieve stress and shed many of the neuroses that we've come to associate with food?
Dr. Cheung is convinced that it can. Last week, she met with team members at Harvard Pilgrim Health Care and asked them to spend quality time with a chocolate-covered almond.
"The rhythm of life is becoming faster and faster, so we really don't have the same awareness and the same ability to check into ourselves," said Dr. Cheung, who, with the Vietnamese Buddhist monk Thich Nhat Hanh, co-wrote "Savor: Mindful Eating, Mindful Life." "That's why mindful eating is becoming more important. We need to be coming back to ourselves and saying: 'Does my body need this? Why am I eating this? Is it just because I'm so sad and stressed out?' "
The topic has even found its way into culinary circles that tend to be more focused on Rabelaisian excess than monastic restraint. In January, Dr. Michael Finkelstein, a holistic physician who oversees SunRaven, a holistic-living center in Bedford, N.Y., gave a talk about mindful gardening and eating at the smorgasbord-friendly headquarters of the James Beard Foundation in New York City.
"The question isn't what are the foods to eat, in my mind," he said in an interview. "Most people have a general sense of what the healthy foods are, but they're not eating them. What's on your mind when you're eating: that's mindful eating to me."
A good place to try it is the Blue Cliff Monastery, in Pine Bush, N.Y., a Hudson Valley hamlet. At the serene refuge about 75 miles northwest of Manhattan, curious lay people can join Buddhist brothers and sisters for a free "day of mindfulness" twice a week.
At a gathering in January, visitors watched a videotaped lecture by Thich Nhat Hanh (pronounced tik-nyot-HAHN), who founded this and other monasteries around the world; they strolled methodically around the grounds as part of a walking meditation, then filed into a dining room for lunch.
No one spoke, in keeping with a key principle of mindful eating. The point is simply to eat, as opposed to eating and talking, eating and watching TV, or eating and watching TV and gossiping on the phone while Tweeting and updating one's Facebook status.
A long buffet table of food awaited, all of it vegan and mindfully prepared by two monks in the kitchen. There was plenty of rice, herbed chickpeas, a soup made with cubes of taro, a stew of fried tofu in tomato sauce.
In silence, people piled their plates with food, added a squirt or two of condiments (eating mindfully doesn't mean forsaking the hot sauce) and sat down together with eyes closed during a Buddhist prayer for gratitude and moderation.
Jennifer May for The New York Times
By JEFF GORDINIER
Published: February 7, 2012
http://www.nytimes.com/2012/02/08/dining/mindful-eating-as-food-for-thought.html